Barbie Party!
Event Date:
July 20, 2023
Event Location:
Pinballz Lake Creek, 13729 Research Blvd, Austin, TX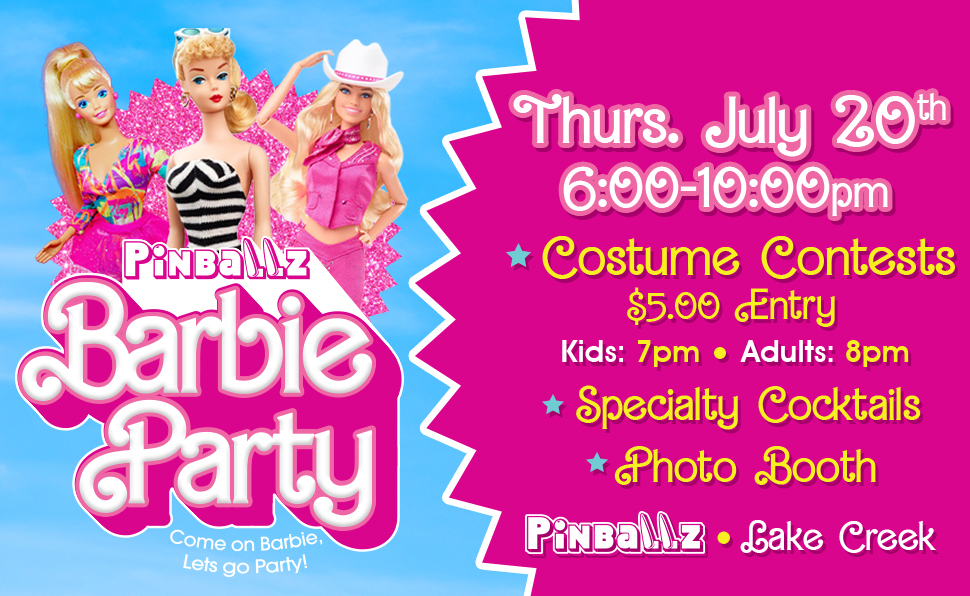 TICKETS FOR THIS EVENT ARE NO LONGER AVAILABLE ONLINE. PLEASE VISIT PINBALLZ LAKE CREEK FOR ONSITE TICKETS
COME ON BARBIE, LET'S GO PARTY!
It's time to grab the pink high heels and your favorite white sunglasses because we're throwing a full-on Barbie Party to celebrate the new live-action Barbie movie! And guess what? You're invited! Join us for an evening of pictures, costumes, drinks, and more on July 20th from 6 pm – 10 pm.
Come dressed in your best Barbie attire and take part in our themed costume contest! For just $5, you can strut across our stage, showcasing your fabulous costume and entering for a chance to win amazing themed prizes.
 Kids Contest: Starts at 7 pm, the Top 3 winners will receive prizes. Additionally, every kid who comes dressed up and enters the contest will receive a $5 game card.
 Adults Contest: Starts at 8 pm, with prizes for the 1st place winners in each category. The categories include: Funniest, Most Authentic, Most Creative, and Best Couple.
Don't forget to strike a pose at our photo booth! Capture wonderful pictures of yourself and your best friends in your most fashionable outfits, complete with fun props and backdrop. After that, make sure to visit The Whiskey Bar, where you can enjoy our specialty cocktail menu inspired by everyone's favorite doll. And yes, there will be edible glitter to add some sparkle to your drinks!
The party never ends in Barbie Land, and neither will ours on this pink-filled night of fun at Pinballz Lake Creek!
CLICK HERE to learn more about The Whiskey Bar and Pinballz Lake Creek's food options.