Murder Mystery – Bodacious Ballroom Bloodshed
Event Date:
March 30, 2023
Event Location:
Original Pinballz Arcade, 8940 Research Blvd, Austin, TX, 78758, USA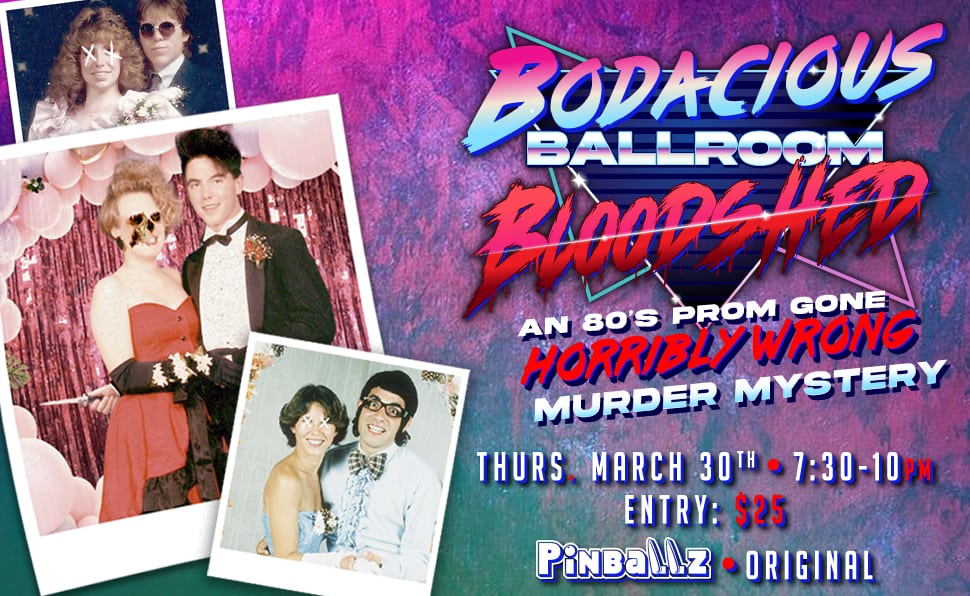 Sorry, this event is expired and no longer available.
Welcome to Pinballz High School- Where the students battle it out over grades, love, popularity, and the title of Prom King and Queen!
The Class of 1984 have been focusing on the prom title for years, breaking friendships and making enemies along the way. After weeks of campaigning and planning, the seniors voted and their representatives were chosen but not everyone was happy with the Prom Court.
Finally, Prom Night is here and everyone is wearing their best suits, poofiest dresses, and biggest hair. As the night comes to an end and these seniors face the music that is their high school careers, two will be rewarded the Pinballz Prom crown and an innocent life will be claimed.
– Will it be the Class President looking to make a name for himself past high school?
– The Punk Rocker whose rocking lifestyle might be too much for others to handle?
– The Cheerleader who can't decide if she wants her ex back or wants revenge?
– Or The Jock who isn't above using his influence to get what he wants?
Can you help these totally tubular teens find the culprit among the neon and narcissistic behavior? Are you able to claim innocence and have the far out faculty believe you? Or will you fall victim to the mullets and mayhem and have one last dance? Join us for a night that will forever be remembered as the Bodacious Ballroom Bloodshed!!
Hors d'oeuvres and libations will be served during the event.