Fall Mixology Class
Event Date:
September 28, 2023
Event Location:
Pinballz Lake Creek, 13729 Research Blvd, Austin, TX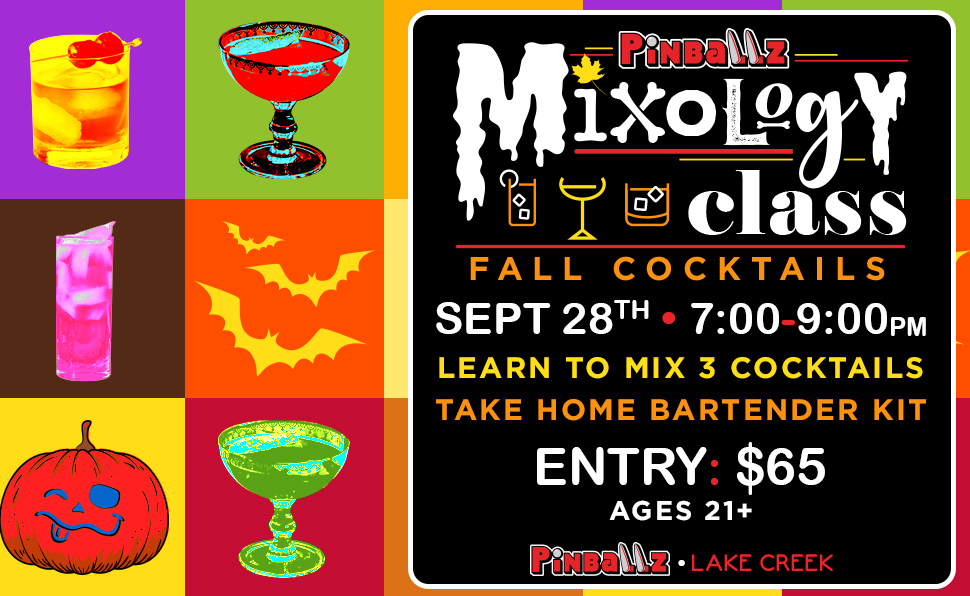 Fall Mixology Class – September 28th at the Whiskey Bar!
Back by popular demand, unleash your inner mixologist at the highly anticipated Fall Mixology Class at The Whiskey Bar inside Pinballz Lake Creek on September 28th. Join us for a two-hour immersive experience starting at 7pm, where we'll explore the art of crafting delectable cocktails with a fun holiday twist. This 21+ event is your ticket to mastering mixology fundamentals for just $65, with day of the event price being $75. Get your very own bartender take home kit and learn how to make 3 specialty cocktails with it, all themed around upcoming holidays and seasonal flavors.
Our expert Pinballz bartenders will guide you, sharing their knowledge and techniques, all while getting you into the festive spirit. Learn how to use bartender tools, how to build and layer cocktails, and immerse yourself into the world of mixology. Discuss the secrets of the cocktail trilogy (ethanol, acid, and sugar) and tips on how to achieve perfect balance for sensational drinks.
Cocktails taught will be:
 – El Diablo: Explore the world of the occult with 1824 Tequila, raspberry cordial, lime juice, and ginger beer.
 – Thanks Given: Indulge the captivating charm of Vodka, Prosecco, cranberry juice, lemon juice, and pumpkin seasoning.
 – Old St. Nick: Enjoy the cozy fireside feeling that is a classic Old Fashioned- with a seasonal twist.
This event has limited spaces, secure your spot early to elevate you mixology skills and one up your next holiday party.
Note: Participants MUST be 21 years or older to attend this event with a valid ID.