Galactic Flip-Off Pinball Tournament
Event Date:
August 7, 2023
Event Location:
Pinballz Lake Creek 13729 Research Blvd Austin Texas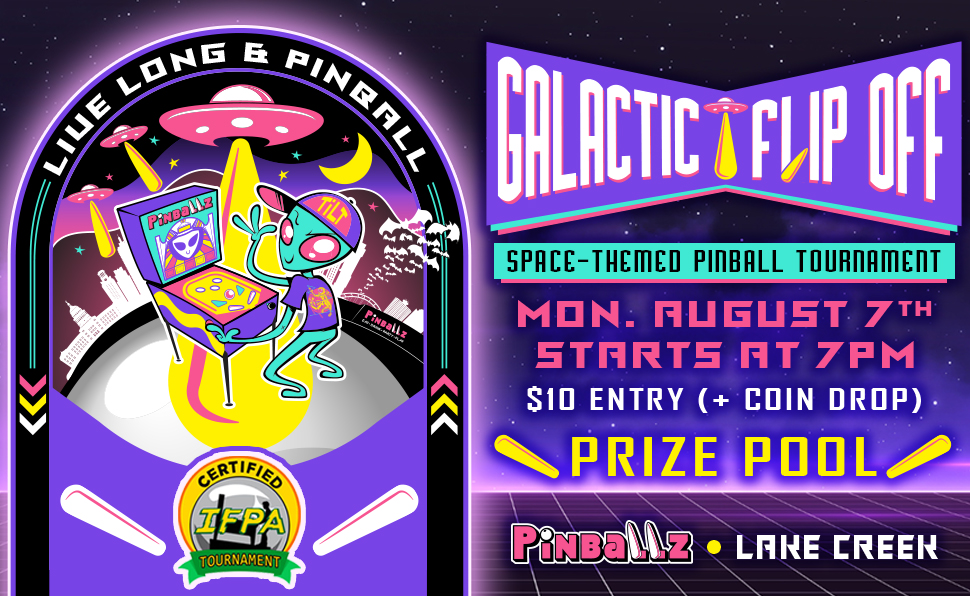 Galactic Flip-Off: An Outer Space Pinball Tournament – August 7th
Join us for an out-of-this-world pinball extravaganza at Pinballz Lake Creek! We're thrilled to announce our upcoming event, The Galactic Flip-Off, a Galaxy-themed Pinball Tournament that will take your pinball skills to new heights. Mark your calendars for August 7th, from 7pm to 11pm, and get ready for an evening of intense competition, space-themed pinball games, and epic prizes.
The Galactic Flip-Off is not your ordinary pinball tournament. It's a knockout-style competition where players will go head-to-head in a quest to prove their pinball prowess. With pinball games featuring captivating outer space themes, you'll be transported to galaxies far, far away as you battle it out for the ultimate pinball glory.
To participate, simply pay the $10 entry fee and be prepared to pay for each round of gameplay. The more rounds you conquer, the closer you'll get to claiming the coveted title of The Galactic Flip-Off Champion. And that's not all – we have an exciting cash prize awaiting the winner, with the prize amount based on the number of participants.
Get ready to immerse yourself in a stellar selection of pinball games. The Galactic Flip-Off will feature an impressive lineup of space-themed pinball machines, including Guardians of the Galaxy, Space Jam, Fire Power, The Machine Bride of Pinbot, Star Trek, Star Wars Episode 1, Starship Troopers, and Revenge From Mars. Each game offers its own unique challenges and opportunities to showcase your pinball skills.
Whether you're a seasoned pinball pro or just starting your pinball journey, The Galactic Flip-Off is the perfect opportunity to test your mettle and connect with fellow pinball enthusiasts. Bring your A-game, embrace the cosmic atmosphere, and let the flippers fly!
Don't miss your chance to be part of this unforgettable pinball experience. Join us on August 7th, from 7pm to 11pm, for The Galactic Flip-Off at Pinballz. Secure your spot in the tournament and prepare for an evening of intergalactic pinball excitement. May the pinball gods be with you as you flip, nudge, and tilt your way to victory in the vast expanse of the pinball universe!
CLICK HERE to learn more about our pinball machine inventory at Pinballz Lake Creek.