Spring Brewfest: Halfway to Halloween!
Event Date:
April 27, 2023
Event Location:
Pinballz Lake Creek, 13729 Research Blvd, Austin, TX,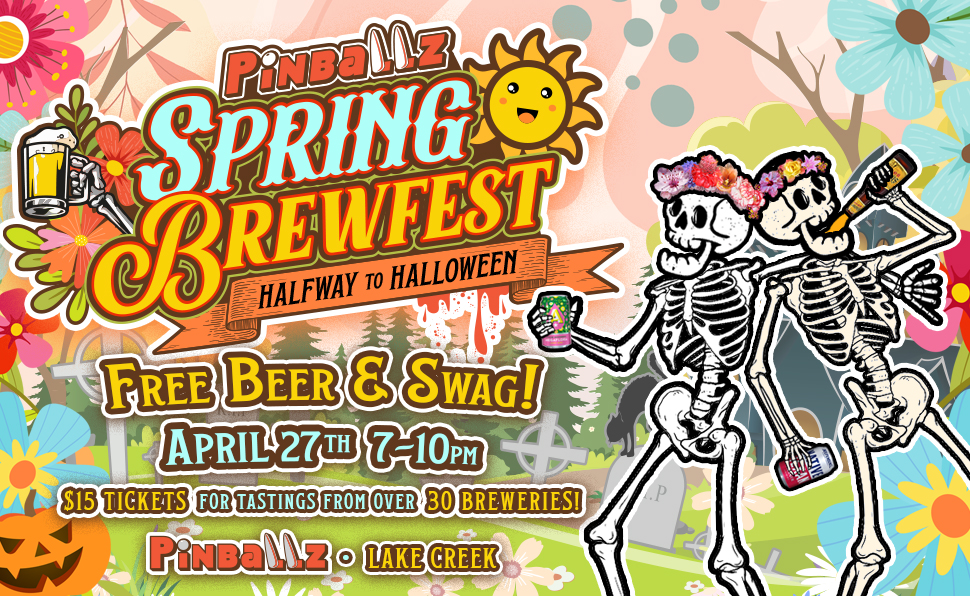 Online tickets are closed, please go to Pinballz Lake Creek to purchase tickets at the front counter!
Pinballz Brewfest is Back!
Join us April 27th as we host 30+ of the hottest breweries and distilleries in Austin! Each brewery will have free giveaways and swag as well as complimentary tastings with purchase of wristband! Some local ATX artists and vendors will be in attendance as well, support local and pick up some fun gifts!
Breweries Attending:
Austin Beer Works – Meridian Hive Meadery – Sam Adams Summer Ale – 512 Brewery – Bishop Cider – Thirsty Goat – Treaty Oak Distillery – Iron Wolf Distillery – Sweetens Cove Distillery – Angel's Envy Distillery – Weird Tea – Flying Embers Brewery – Independence Brewery – Save The World Brewery – Shiner – St. Elmo Brewery – Cider Fresca – Celis Brewery – Dripping Springs Vodka – Dogfish Head – Friends and Allies Brewery – Lone Pint Brewery – And more!
Optional for Extra Fun!
Come dressed up in your creepiest and most colorful Halloween costumes and take pictures at our photo booth or participate in our Costume Contest for a chance to win special prizes!