Murder Mystery Dinner at The Original
Event Date:
August 25, 2022
Event Location:
Original Pinballz Arcade 8940 Research Blvd Austin Texas 78758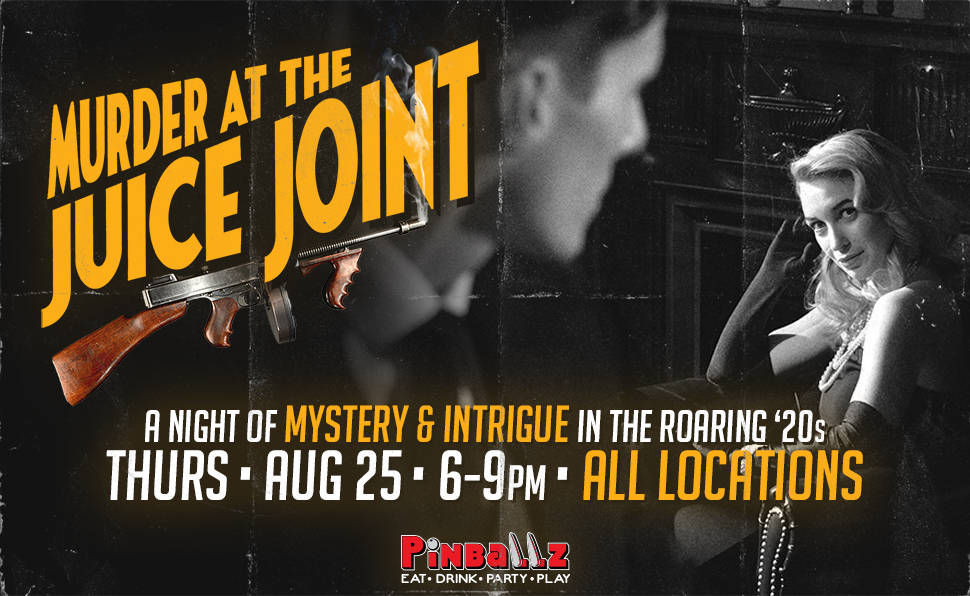 Sorry, this event is expired and no longer available.
Total Seats: 60 (60 Left:)
Murder Mystery Dinner at Pinballz Original
A night of mystery & intrigue in the wild and romantic era of the roaring 20's
With the passing of prohibition and organized crime on the rise, The Juice Joint, a swanky speakeasy run by Rosie Marie, has been nothing but jumping. To celebrate its success, Rosie is planning a party to remember at the exclusive nightspot… and you are invited!
However, one of the names on the guest list is also on another's hit list… and no one is safe from the consequences.
With murder on the menu, you are certain to find a medley of individuals to make the night most memorable. From major mobsters and their molls to the swanky singer with her hopes at Hollywood. The cigarette girl with a temper that sizzles to the crooked police chief with nothing to lose—no one is safe from murder…but everyone will have a chance at solving it.
Will the culprit be the Mayor who is capable of murder?
The blacklisted bootlegger desperate to increase their sales?
Or possibly the director with a shot at making history?
With the recipe for murder, the Juice Joint will be certain to be serving up a night or mayhem to remember!
$35 includes a scratch dinner and a night of murderous mystery!
$10 add on for two specialty themed cocktails!