Omni Arena VR Competition
Event Date:
August 3, 2023
Event Location:
Pinballz Lake Creek, 13729 Research Blvd, Austin, TX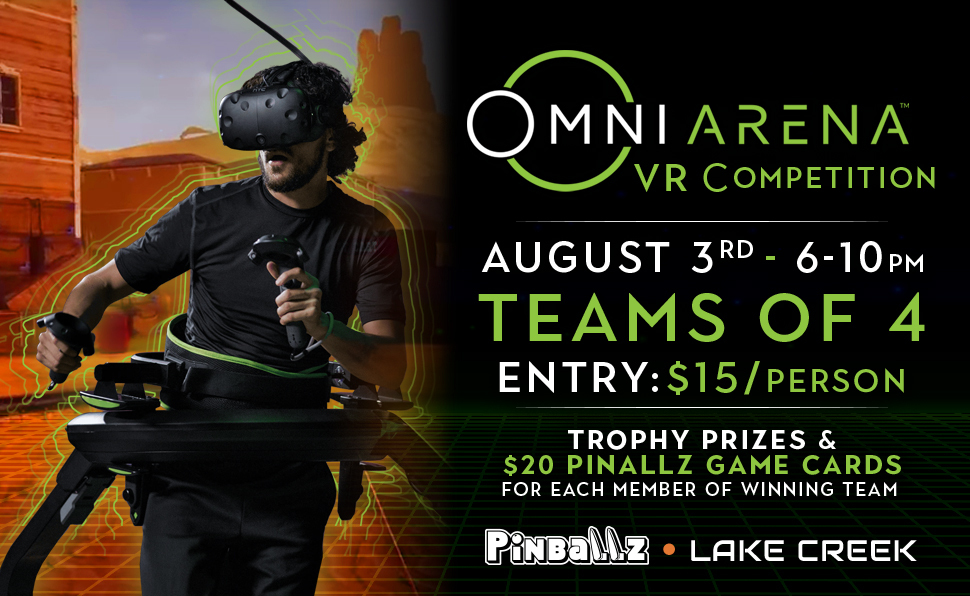 THIS EVENT HAD BEEN CANCELED. CHECK OUT OUR NEWSLETTER FOR FUTURE EVENTS AND UPDATES ON ALL OF OUR EVENTS.
CALLING ALL OUTLAWS! Enter for a chance to win $2,000 in our Omni Arena VR Competition!
Grab yourself a cowboy hat, and 4 of your best gun-slinging friends as you make your way over to Pinballz Lake Creek this August 3rd for our latest competition. From 6-10pm, go head to head against other teams as you climb the leaderboards to 1st in the game Gunslinger: Outlaw Shootout.
Entering this competition will get your team in the National Omni VR Competition, meaning your band of bounty hunters could walk away with $2,000 for being the Sharpest Shooters in the Wild West. Winners for this competition will also walk away with Pinballz Prizes: A special VR Champion trophy and $20 game cards for each member of the winner team!
To secure your team's spot in this blood-pumping competition, online registration is required. Each team can participate for an entry fee of $15 per person. Be quick to secure your spot, as this competition is limited to a maximum of 8 teams. Defend the town of Brightstone from a gang of plundering bandits and sign up today!
Please note that participants must be 13 years or older, and we kindly request compliance with this age restriction.
Study these expert tips straight from the game developers:
Know your enemies! They are worth the following number of points:
– Explosive Cart – 1000
– Airship – 500
– Outlaw – 100
• Explosive carts move quickly, so find and destroy them when you hear them coming, before they can reach the town's supplies.
• Reserve the dynamite launcher for the airships, and target them when they appear, as they do a lot of damage to the town's supplies. Two shots from this weapon will destroy them.
• Use the shotgun against the outlaws, carts, and the boss (Carmichael), who appears in the second round. Focus on defeating him by the end of the round to get an extra 7,500 points!
• Get 2,000 bonus points for any stolen gold you secure! If you have four players, have one player in each of the three areas, and a fourth seeking out the gold bars, carts, and looking out for airships.
• Well-protected supplies will result in thousands of extra bonus points. The remaining percentage is multiplied by 100 for this bonus!