12 Days of Specials
Event Date:
November 8, 2022
Event Location:
Original Pinballz Arcade, 8940 Research Blvd, Austin, TX, 78758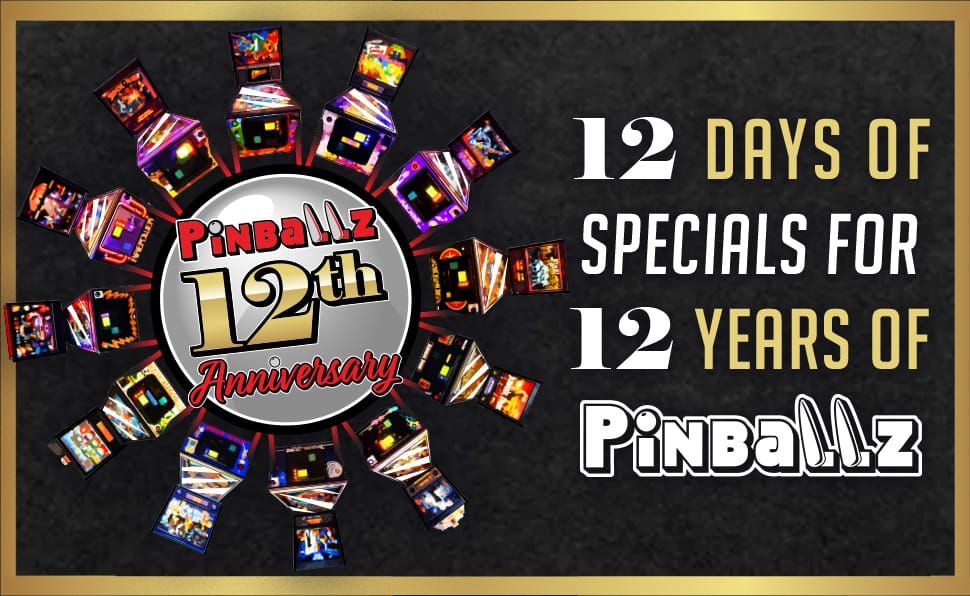 12

Days of Specials for

12

Years of Pinballz

We'd like to celebrate YOU (our awesome customers) as a thank you for your patronage for 12 years!
Enjoy a special daily deal at all of the Pinballz locations!
Tues Nov 8th: Get Free Fountain Drink w/ Purchase of Classic Entrée ~OR~ Buy $10 card get 200 tickets
Weds Nov 9th: Buy $20 get $10
Thurs Nov 10th: BOGO Bumper Cars
Fri Nov 11th: 50% off canned beers ~OR~ Buy $20 Card get 500 tickets
Sat Nov 12th: Buy $20 Get $10
Sun Nov 13th: BOGO Escape Room
Mon Nov 14th: BOGO Any VR
Tues Nov 15th: ½ off ALL pins
Weds Nov 16th: BOGO Axe Throwing
Thurs Nov 17th: ½ off All Video Games
Fri Nov 18th: 50% off Margaritas ~OR~ Buy $50 card get 1500 Tickets
Sat Nov 19th: Buy $20 Get $10
Sun Nov 20th: ½ Price on All Attractions, Pins & Vids
(no redemption or tickets)
12

Year Anniversary PARTY
THEN COME CELEBRATE WITH US AS WE WALK DOWN MEMORY LANE FROM THAT 1ST PINBALL MACHINE AT THE ORIGINAL ARCADE TO THREE LOCATIONS FULL OF EXPERIENCES!
Everyone is invited to our 12th Year Anniversary Party at Pinballz Lake Creek on November 20th from 6-8pm! There is no charge for this party. We will have an 80's DJ, photobooth, snacks, drinks, goodies, special guests, and of course CAKE!