Rum Tasting
Event Date:
February 24, 2023
Event Location:
Pinballz Lake Creek 13729 Research Blvd Austin Texas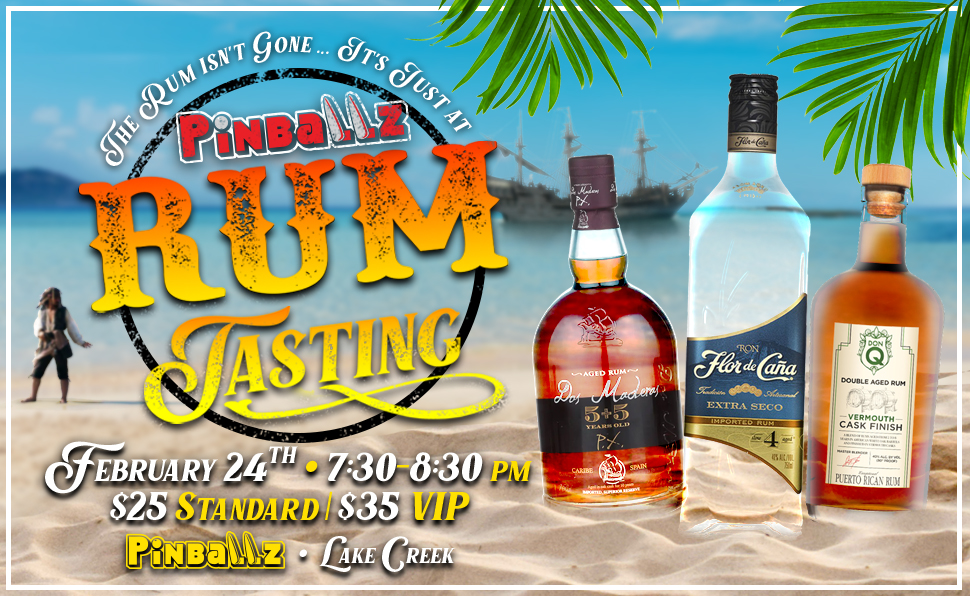 Why is the rum always gone? Because we shall drink it!!
Enjoy the unique flavors of the islands with our delicious rum tasting and food pairing at Pinballz Lake Creek. Be transported to white sand beaches while indulging in some fun and exotic food pairings including pork booty, rum cake, and more!
Standard Tasting:
Floor de Cana silver 4 year
Dos Maderas 5+5 years old
Mount Gay Black Barrel
Don Q Double Aged Vermouth Cask Finish
VIP Tasting:
Floor de Cana 18 year
Costume Contest!
Not only is it a delicious rum tasting, we are also having a costume contest! If you wish to participate, come dressed up as your best pirate or in your favorite islander outfit! Win 1st place and get a bottle of rum!!!
Get your tickets or walk the plank, your choice.