Super Smash Bros Weekly Tournament
Event Date:
September 26, 2023
Event Location:
Pinballz Kingdom, 15201 S I-35 Frontage Rd, Buda, TX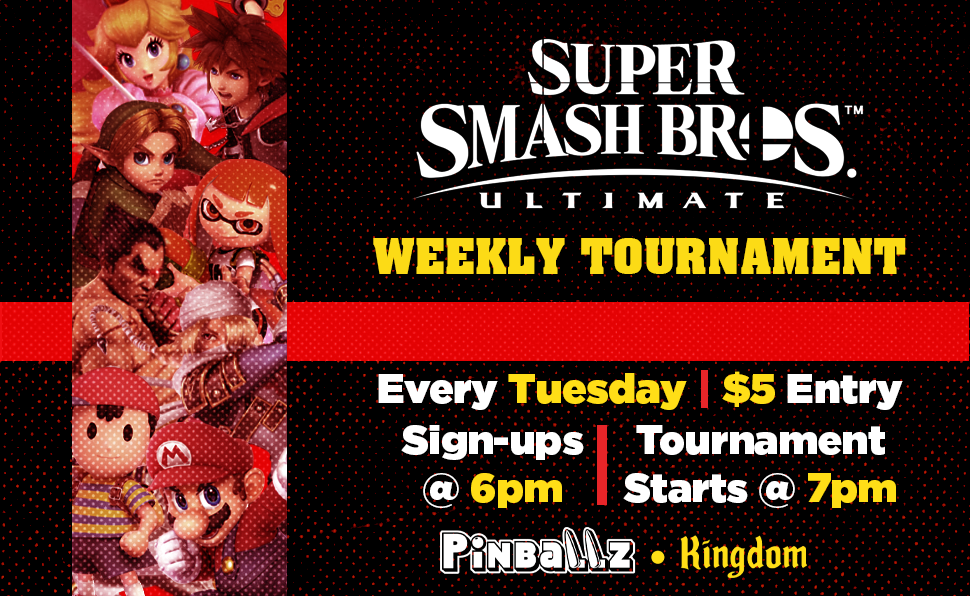 3… 2… 1… GO!
Feeling confident in your Super Smash Bros. skills? Time to put them to the test in our weekly tournament! Join us every Tuesday at Pinballz Kingdom as players go head-to-head in Super Smash Bros. Ultimate, battling for both 1st Place and prize pool by the end of the night. Winner gets 50% of prize pool and their tab paid for by the Event Organizer, 2nd gets 25%, and 3rd gets 10%. All you have to do is pay $5 to sign-up, and you're in on that week's tournament. Sign-ups start at 6pm, with tournament starting at 7pm.
FORMAT AND RULES:
– Singles format, Double Elimination with a Loser's bracket
– Winner's bracket will play as followed: Best of 3, Semi-finals, Finals, Gran Finals in case of bracket reset
– Game mode set to stock, 3 stocks in 7 minutes
– Entrants will be seeded based on previous performances, if any
– Starting character decided during sign-up, may choose to swap character in a match-set after first game, winner choosing first
– The following will be disabled: Items, Smash gauge, Stage hazards and transitions, Pauses, Spirits, and Underdog Boost.
BANNED BATTLEFIELDS/OMEGA VARIANT STAGES:
– Windy Hill Zone
– Gamer
– Hanenbow
– Dream Land GB
– Mute City SNES
– Flat Zone X
– Duck Hunt
– Pac-land
– Super Mario Maker