The Bloody Birthday Bash Murder Mystery
Event Date:
October 20, 2022
Event Location:
Pinballz Lake Creek 13729 Research Blvd Austin Texas 78750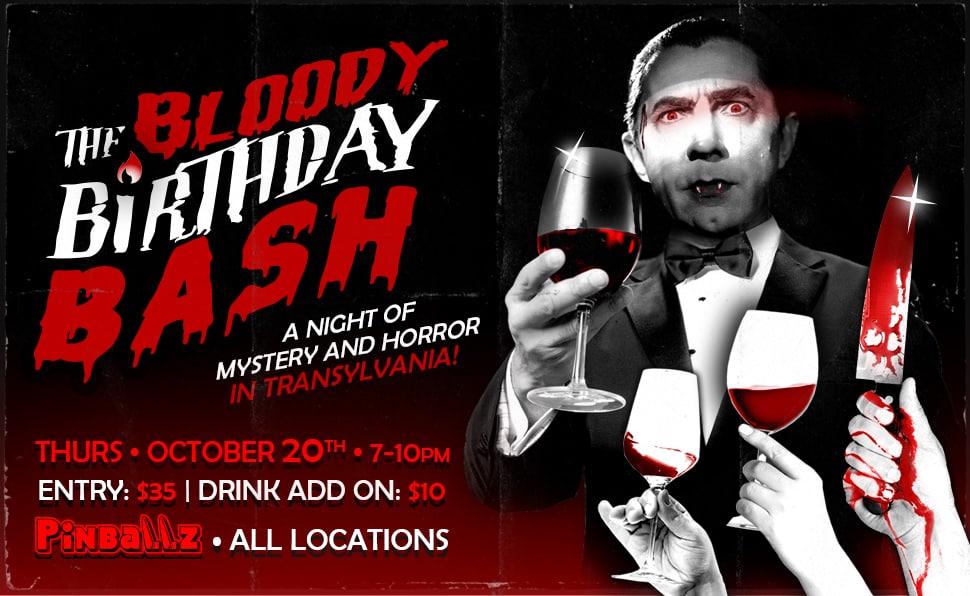 Sorry, this event is expired and no longer available.
From witches and ghouls to werewolves and cryptids, everyone is invited to Dracula's Birthday Bash!!!
As ghastly friends gather on the 20th night of October, this will be an evening where the strange and the supernatural can come together to celebrate a monster that has terrorized the human world for centuries! However, during this night of frightful fun, one of the celebrators will end up in a early grave they have dug only for themselves.
With the fear of becoming victims themselves running high, the ghoulish guests will need to seek out the murderer in their midst.
Will it be the cackling witch with a bitter cross to bear?
The mysterious mummy who needs to keep certain secrets under wraps?
Or possibly a vengeful vampiress who was once bitten but twice shy?
Join us on this bloody and horrifying night as the spooky and the scary collide, and a mystery is left to be solved for fear that all that remain be spellbound!
All tickets are paired with a ghoulish feast from our scratch kitchen.
At this party, you shall be served:
– A cheese & charcuterie display with skull wrapped prosciutto included
– Blood Orange Salad
– Spider Sliders
– Bloody Foot Meatloaf
– Coffin Cake
– Carmel Apples
The drink add on will get you two nightmarishly delicious beverages to add to the fun!
Including:
– Blood Bags filled with Cosmos
– Witches Brew Cocktail