PINBALLZ: THE BEST PARTY SPACE IN AUSTIN
DISCOVER ENDLESS FUN CUSTOMIZED TO YOUR NEEDS!
What happens when employees get word of an office meeting? For most offices, the only thing fun about a meeting is when it ends. Don't be like those all-too-common offices where the employees disengage as soon as the boss starts talking. Nobody wins when there's a mass tune-out!
Set your next office conference up for success by holding it at the most exciting event space in Austin. Only at Pinballz can you energize your coworkers and employees, revive the work week, and get the most out of your meeting!
BE THE HERO OF YOUR NEXT EVENT!
It's time to ditch the mundane and make the work day a FUN day! When you hold your meeting at Pinballz, you can achieve the innovative, creative, and stress-free company outings that your employees want. Whether you're planning a company-wide celebration or a small department get-together, we've got you covered.
When you're done working hard, it's time to play hard. If you're wondering where to have a party in Austin, Pinballz is the answer. Get your fun on at the arcade with plenty of classic and modern games, and then refuel with Mikki's Replay Café food and drinks rounds.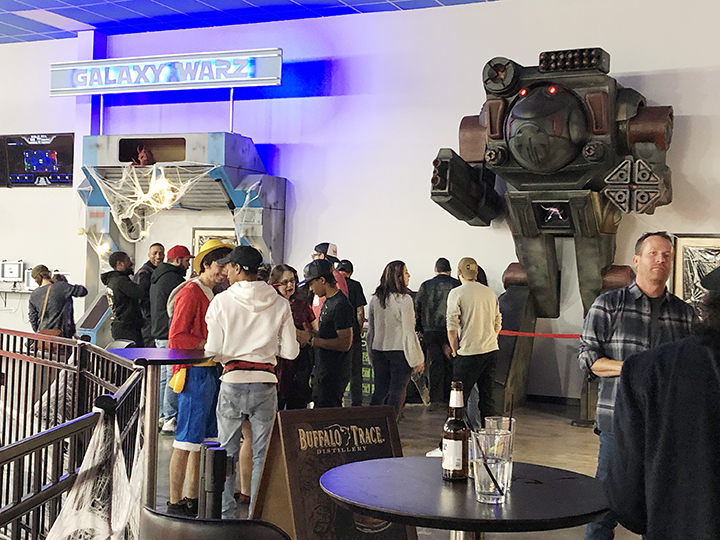 At Mikki's Replay Café, our dedicated food truck, you'll find plenty of classics made in our scratch kitchen leading with our build-your-own brick oven pizzas, wings with 10 sauce options, burgers, chicken sandwiches, quesadillas, and tacos. We also serve dozens of sides and appetizers, healthy salads, and many kids meal options.
Without question, Pinballz is one of the best party spaces in Austin. Need more information or have specific questions about scheduling your event? Let's get in touch.
Click below to start planning your event today!
CHECK OUT OUR EVENT ROOMS!
If you're wondering where to have a meeting, conference, or party in Austin, we've got the answer: Pinballz. We have multiple event rooms that can seat anywhere from a dozen people to hundreds. We have partial and full facility rentals that can accommodate up to 2000 guests. We have hosted a variety of theme parties and events, so let us host your next event! 
We are committed to working with you to create the optimal room arrangement for your event.
Need tables in long rows or small groupings?
Want the chairs lined up facing a presentation table or our big screen projectors?
No problem. We can even rearrange the tables and chairs during your event to meet additional changes or last-minute necessities. Our in-house chef also offers a large variety of menu options beyond our standard fare.
While your event is in action, a friendly host is available to help with any on-the-spot issues. We never leave you in the lurch, whether you can't set up your audio or video connection or you realize mid-event that you didn't request enough chairs, space, food, or beverages.
PARTIAL OR FULL RENTAL EVENT SPACE IN AUSTIN
Are you looking for a fresh, exciting, and unique idea for your next birthday party, family gathering, employee recognition ceremony, team-building event, offsite meeting, or another special occasion? Let Pinballz Original Arcade host your private party.
Our event rooms feature party rooms big and small to meet your needs. We can accommodate groups of up to 2,000 people for your event and provide you with exclusive access to all games and attractions in the facility. Our Lake Creek location even features a music hall and movie house party rooms! Some date and time restrictions apply.*
From buildable packages to price-saving bundles, we've made partying at Pinballz Original Arcade as simple of a process as possible so that you can relax and focus on the fun. Whether your group chooses a full or partial rental of the arcade, you'll have your pick of the arcade games and attraction experiences we offer. 
From classic pinball and arcade games like Revenge from Mars, Tron Legacy, Super Mario Bros, and Ms. Pacman to modern games like Halo Fireteam Raven, Connect 4 Hoops, and Rick & Morty pusher, you'll have all you need to have a blast. And with Disney-level attractions like Dark Ride 7D Theater and OmniVerse VR Arena available to experience, there are endless ways to have fun at a family event or work get-together. We continuously bring in new and exciting games and attractions that are trending around the world. You'll never know what you'll find with each visit!
Make your reservations now to ensure the day and time of your choice!
*Please note: Full facility rentals are extremely limited on Fridays, Saturdays, Sundays, or major holidays. Nevertheless, we have partial facility rentals that offer a cost-effective alternative. Please contact us directly, and we will be happy to discuss any date and time.
QUESTIONS ABOUT WHERE TO HAVE A PARTY IN AUSTIN?
No question is too big for our staff. Get in touch, and we'll see you soon! To learn more about each of our facilities, click on your choice of location below:
Original Arcade
(183 & BURNET)
8940 RESEARCH BLVD.
AUSTIN, TX 78758
512-420-8458
Lake Creek
(183 & LAKE CREEK)
13729 RESEARCH BLVD.
AUSTIN, TX 78750
512-537-8737
Kingdom
15201 S IH 35
BUDA, TX 78610
512-523-4080