Murder Mystery: Slaughter at the Sideshow
Event Location:
Pinballz Lake Creek 13729 Research Blvd Austin TX 78750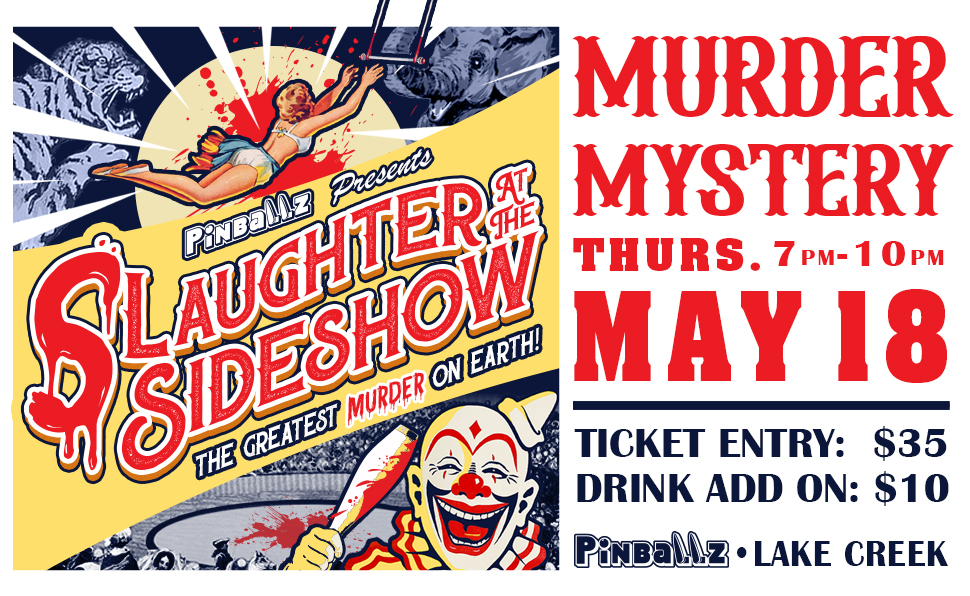 Tickets for this event are SOLD OUT! Please check back for our next murder mystery!
LADIES AND GENTLEMEN, BOYS AND GIRLS, STEP RIGHT UP AND BE PART OF THE GREATEST MURDER ON EARTH!!
From the world of Illusion and Intrigue, join Cirque du Pinballz as they host a spectacular show unlike any other! From show-stopping attractions to heart-pounding stunts, all are welcome to step into the ring and witness the intense and weirdly wonderful world of the circus. As the newest member of the circus, you have been invited to join the crew after hours as they celebrate another successful show! However, not all who perform in this sideshow are who they say they are, with rivalries and secrets extending beyond the center ring…
As pressure from the spotlight builds and a murder threatens to steal the show, are you ready to uncover the culprit before the final act?
Was it The Ringmaster who rages more then the lions, attempting to clean up a spectacle?
The Tightrope Walker whose talented career was cut short from a fall, taking them out of the limelight?
The Knife Thrower who is set out to win back the heart of his love, or break it?
Or The Clown whose job is to make everyone laugh, but at what cost?
With only a few hours left before the circus must depart to their next destination, you must rely on your intuition and wit to help catch this creepy killer. It's time for the Grand Finale and you have been called to the stage to help solve this slaughter at the sideshow!
What's on the menu?
Nacho Bar – Large Bavarian Pretzels – Mini corndogs – Mac n' Cheese Bites – Fried Pickles – Corn on the Cob – Funnel Fries
(Vegetarian option is available for this event)
Specialty drinks to immerse yourself into the magic and wonder of the circus!