Dulce Vida Tequila Tasting
Event Location:
Pinballz Lake Creek, 13729 Research Blvd, Austin, TX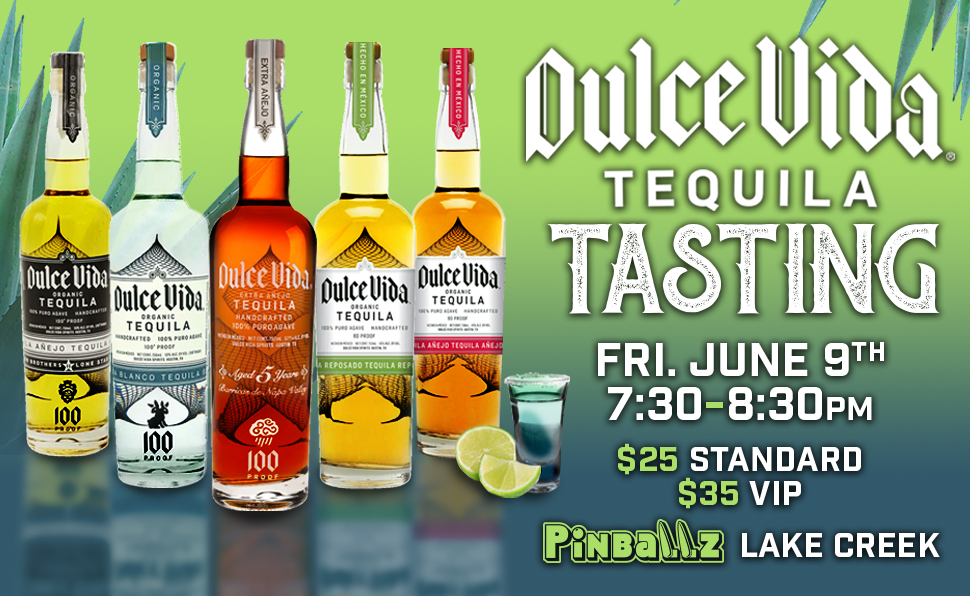 ONLINE TICKETS FOR THIS EVENT ARE NO LONGER AVAILABLE. TICKETS CAN BE PURCHASED ON SITE AT THE LAKE CREEK LOCATION
DULCE VIDA IS HOSTING A TEQUILA TASTING WITH US ON JUNE 9TH AND YOU'RE INVITED TO JOIN!
Dulce Vida will be highlighting their best tequilas in this specialty tasting, with free swag and giveaways happening afterwards from 8pm-10pm!
$25 STANDARD TICKET INCLUDES:
– Dulce Vida Blanco 100 proof
– Dulce Vida Reposado 80 proof
– Dulce Vida Añejo 80 proof
– Dulce Vida Añejo Lone Star Edition 100 proof
$35 VIP TICKET INCLUDES:
– Dulce Vida 5-Year Extra Añejo