Pokémon Day 2023
Event Date:
February 27, 2023
Event Location:
Pinballz Lake Creek 13729 Research Blvd, Austin, TX,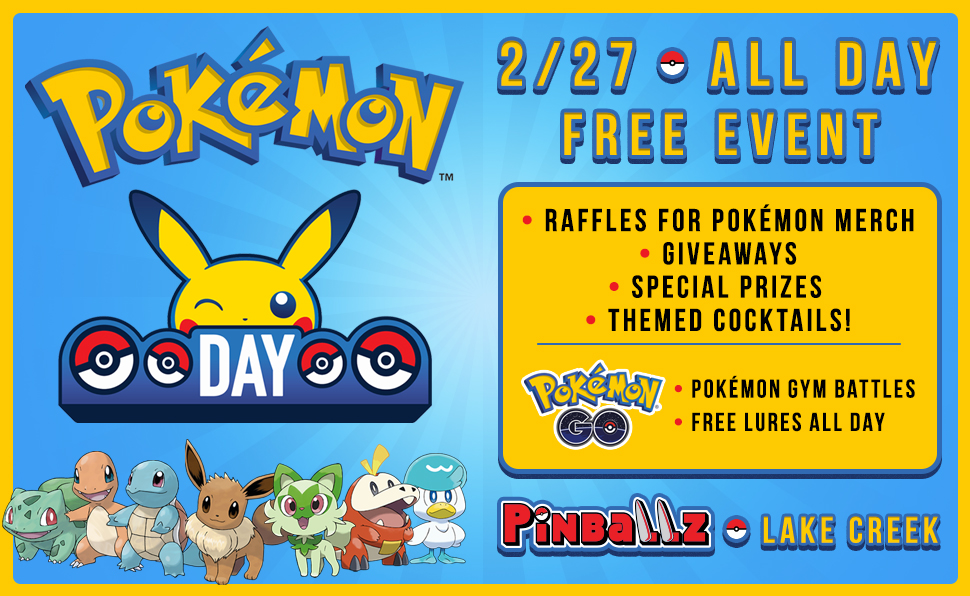 CALLING ALL POKÉMON TRAINERS!!!
Come celebrate the magical world of Pokémon this February 27th in a free all-day event! Check out special merch available day of only at our prize center like plushies, lego sets, and higher end cards & box sets. Try out our themed cocktails, inspired by some of our favorite pocket monsters.
Enter our $5 raffles for a chance to win:
 – A 6ft Snorlax plush!
 – A Mega Pikachu lego set!
 – A Gengar pillow & blanket!
Check out our front desk deals:
 – Buy $100, get a free Pokémon card pack!
 – Bring in proof of a quest completion in Pokémon GO, receive a free $10 bonus!
MORE OF A POKÉMON GO FAN?
Well great news, we're a gym! Show that you're a true Pokémon master by bringing your best team and battling it out for the ultimate victory title. We'll also be running free lures all day to help you grab all sorts of new Pokémon friends.